You're dreaming about your upcoming adventure and all fun experiences planned. You've found awesome cheap flights or grabbed an Interrail pass. The only thing left to do? Find somewhere to stay!
Hostels are a great way to visit new countries and cities. They are most often the cheapest form of accommodation and you'll meet people from around the world. If you're a solo traveller or backpacker (See my post all about why you should travel solo!), they are especially awesome.
Hostelworld.com is a booking platform with over 13,000 hostels worldwide to choose from. Last summer during a 6-week backpacking trip through Europe, I downloaded the app and used it to book all of my accommodation in a few clicks.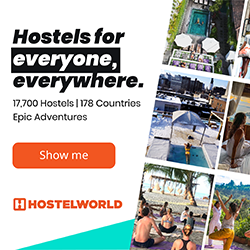 So how do you find the best hostels for you? There are a few things to consider.
Types of hostel & Room
Firstly you should consider the type of trip you're going for. Are you a young backpacker looking for a party hostel? Or like me, a young backpacker looking for something a bit quieter. Are you travelling with friends, significant other or as a family?
This is important to think about as it can make or ruin your stay. You'll be able to tell which are the party hostels from the photos on each hostel's profile, and often in the description.
Do you want a private room or would you be happy in a shared dorm?
Dorms are always a  less expensive option and great for socialising. But, if you're travelling with others or don't feel comfortable with a stranger being in the bunk above, maybe search for private rooms only.
There is also the choice between larger chain hostels and smaller boutique style ones. For example, St Christopher's inns and YMCA youth hostels can be found across Europe. They are often larger and have a quality standard across the chain. On the other end of the spectrum are quirky independent places that can be a bit more relaxed. You may find the service a little more friendly and homely.
What Facilities Are Important?
When using the search function, you have the option to filter your results which is really useful. Personally I always tick 'Free Wifi' and 'Self Catering Facilities' as I need the wifi to work online and want to save money by cooking. Choose all the options to make your stay the best possible.
Read through the description to see if you have access to secure lockers. This is normally the standard but you don't want to be caught out without a place for your valuables. You may also wish to find out if there is luggage storage. This allows you to drop your bags off if you arrive before check-in and gain an extra day exploring upon departure.
Also, many hostels offer a free breakfast, which can range from basic cereal and toast to fruit, cake, and more. Consider this if you're on a tight budget! If you're vegan or have dietary requirements, it's not always worth choosing a hostel based on the breakfast, as there may not be much you can eat. Also, some hostels offer theme nights, for example making a big paella for everyone to share. This is a great way to meet new people.
Reviews and Rating
Hostelworld uses customer reviews to offer a rating for each hostel. It's based on factors such as security, cleanliness and facilities offered.  From speaking to other travellers, they agreed that a rating of 7.5+ is generally good. If you need somewhere less expensive, look at the breakdown of hostels with lower reviews and read customer feedback. They may be reasons you don't mind compromising on.
Overall though I would always recommend checking through a few recent reviews!
Location
Location is another factor that determines a Hostel's rating. Make sure you check this out before booking.
If your using public transport, ensure this is easily reachable. In some cities, choosing a central accommodation may save you time and money by allowing you to walk everywhere.
Also, what is the neighbourhood like? Especially if you're on your own or arriving at night, look for somewhere in a good area where you'll feel safe.
Book Early!
This is particularly important during the summer months. Many of the best hostels get booked up by backpackers and holidaymakers, so try to book in advance if possible. In saying this, last summer I was able to find some great places last minute. It's a gamble though!
A great feature of booking through Hostelworld is that you only need to pay a deposit upfront and they offer free cancellation until the day before your booking. Plans change so this is super useful!
Some great Hostels!
I've stayed in countless hostels throughout Europe. Some of them have been so fab,
With an open air dining space, swimming pool, great breakfast and sea views, this Maltese hostel really felt like a hotel!
This small and friendly inn is a beautiful old building with a rooftop garden. I'd sit out there watching the sunset and they even had yoga sessions!
This tucked away refurbished factory had a cool indie vibe. Everyone gathered around a communal dining space and it was social yet a great place to relax.
I'd love to hear about all the fabulous hostels you've been too! Please comment below & feel free to ask any questions.
Also, make sure to follow @rosyvegantravel on Instagram and Facebook for the latest updates.
Hannah xx
*Post contains affiliate links